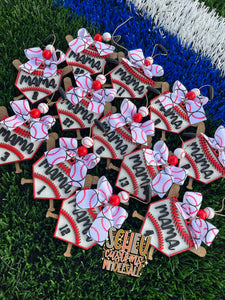 ***MOQ of 2 or more (If you'd only like 1 for yourself please ask me for retail invoice of $15.99 plus tax and shipping) MOQ does not apply to this individual listing IF you purchased the 10 pack! 
This is the best gift for the baseball/softball lovers. 
This cute car charm addition is perfect and so cute!
About 3.75" width in size - laser cut, hand painted and stained. 
Backing is usually stained or black in color or something to match color combos on the front of the charm. 
Choose - Baseball or Softball 
***IN DESCRIPTION BOX***
-Type in color for home plate, and laces,
-beads will be matched accordingly.
- If you'd like MAMA, MOM, or any other titles or names on them. Can be mixed for the titles.
- If you want it exactly as shown in main photo (red and black) just put "AS IS" please also if you'd like no numbers or list the numbers you'd like spacing them with commas
EX: Baseball MAMA: 5, 3, 1, 67, 98, 00